The most common question I got asked after I said I was going to Austin for the weekend was: WHY??? And my response was: Why not! The destination originally was chosen to go to the SXSW music festival, however, after doing some more research we realized that to attend that festival would be pretty pricey, so we decided to fly there just for the city's sake. Often compared to as a "Portland" of Texas, the state's capital offered a ton of culture, live music, landmarks and most importantly delicious food. And we ate ALL the food.
There was a group of 6 of us and we opted for an Airbnb near the University of Texas. It was a great location and most places we wanted to visit were walkable or a short uber ride away. My first Airbnb experience was a great success and offered relaxed accommodation for a group (for a decent price, too!) The first day we were having beers on the back patio in 20+ degrees - in February. Done!
I won't beat around the bush, food was the main motivation of the trip. I'd done some research before I went and there are so many fantastic blogs with countless restaurant recommendations that would require months to get through and inevitably stretchy pants or a mumu to get out of. Some of my favourite blogs for a guide to Austin were The Tig and Camille Styles restaurant guide .
Contigo was our first meal and before I'd even taken my first bite I was in love with the ambiance. The indoor/outdoor restaurant was lit by stringed bulb lights and a roaring fire in the corner with family style seating. After a friendly "Y'ALL" from our server, we proceeded to order basically every shared plate on the menu. Our favourites : foie gras, pork liver pate, steak tartare and proscuitto - these dishes are so good that when the plate was cleared our group admitted that if it was socially acceptable to lick the plate, we would have. Our mains didn't disappoint either: sausage, bacon burgers and steak, this farm to table restaurant had all the meat covered. This restaurant became the bench mark for the rest of the trip.
Surprisingly with all the eating we did this trip, not a ton of food photos were produced. Was this because we were all mesmerized by the best of the beefs? Probably (and I'm an Alberta girl - I know my beef.) Meat was a constant throughout the trip and we didn't meet a charcuterie board we didn't love. Taco's were available at basically every corner, and we found a delicious Taco food truck, Torchy's Taco - which we happily indulged while waiting to get into ANOTHER restaurant, Elizabeth Street Cafe. This restaurant is famous for it's Pho and croissants - it was rude to not try both. BBQ was obviously the other Texan delicacy we needed to try, and everything I read about Texas BBQ lead me to Franklin's BBQ. I hate line-ups but I was prepared for this one, as some reviewers even suggested to bring a lawn chair! Well, long story short, the 4 hour wait was not the best use of our time so we gave up and looked for the next best BBQ, which was closed... As Jay-Z would say, on to the next one, the 3rd best BBQ in Texas, Micklethwait! Granted we didn't taste Franklins, but this BBQ did not disappoint! The jalenpeno sausage was amazing and the brisket was so tender it fell off the bone! I'll chalk it up for the win. I did snap a photo of Franklin's below, the line-up went about 2 blocks long.
In between the eating we did walk and explore the city (we needed to sweat out some meat after all...) The University of Texas was boasting with Longhorn pride and a sea of orange. The buildings were beautiful with so much history: the bell tower standing high above the campus was an iconic landmark. The true highlight of the skyline had to be the State Capitol building, both inside and out!
We also day tripped to San Antonio because the world was our oyster and that oyster was the state of Texas. Only an hour and half away we found a great spot for lunch, CURED. The charcuterie board was one of the best we had the whole trip and the bloody mary/pickle juice combination was a great twist on our beloved Caesar - this meal CURED our hangover to say the least. The restaurant décor was so cute too!! Tin ceilings, exposed brick, hanging meat and honey comb tiling. We also explored the river walk through the downtown which was flanked by restaurants reminiscent of Venice, well, an American Venice. San Antonio is also home to The Alamo where the battle of 1836 took place when Texas was fighting for their independence from Mexico (dose of history for you!)
Another favourite spot we checked out was Rainey Street, where you'll find old frat houses turned into bars and restaurants. I'd say it's an Austin secret spot but it's not, it was packed on a Saturday night - great restaurants, perfect location to bar hop and some fantastic people watching! Several locals recommended Banger's Sausage House & Beer Garden and it didn't disappoint! A huge open space with long family style seating, live band (with possibly Willie Nelson on lead vocals) and a pig roasting in the corner - it doesn't get more Texas than that. Oh, and the food! 30 housemade sausages. Enough said. And 100 craft beers on tap washed it all down nicely. Our evening carried on to one of the frat house bars, Bar 96. It had a feel of an adult house party! The DJ kept us singing along to some classic rap tunes all night - between that and the free pour drinks we got our dance party on!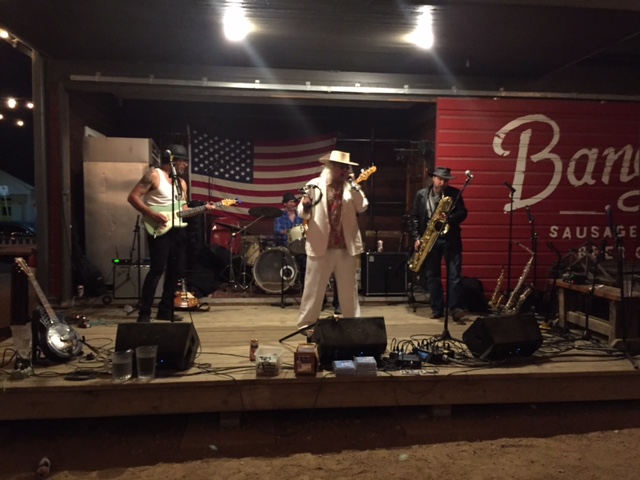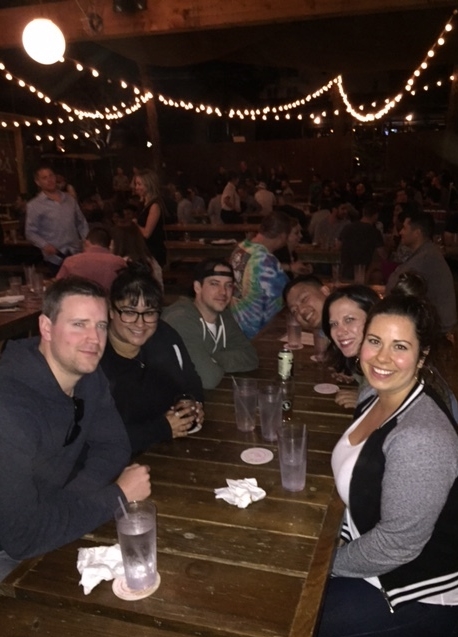 Hamilton Pool is an hour outside of Austin. This natural pool was the result of a the collapse of an underground river thousands of years ago. The water is a glistening emerald green and it's surrounded by a cave with a waterfall cascading down. It's not big and you truly feel secluded from all city life. The water was refreshing to say the least - actually, it was freaking cold but worth it on a hot day!
A few other noteworthy restaurant locations: Sway - a twist on modern thai with some asian fusion flavours mixed in! I'd recommend the son-in-law dish and some sake. We also went to Parkside for our Valentine's Day meal; naturally steak was consumed and it was delicious, but it was the sides that stood out for this meal! The mac n' cheese and squash were fantastic. Oh, and the beignets, those were magic.
I hope I've inspired you to visit Austin (or have made you hungry?) It's truly a bad ass city with lots to do and even more to eat.
Until next trip...
xx
LC & Gang